2020 Edward Beckett participates in LA Art Show in booth #1207 for Walter Wickiser Gallery.

2020 Twenty Years of Paintings and Monotypes opens on January 4 with reception on January 9, Thursday at the Gallery of Walter Wickiser.

2019 Edward Beckett is invited to exhibit at Walter Wickiser Gallery (https://www.walterwickisergallery.com/) in Chelsea, New York City.
2019 Edward Beckett delivers new commission: Takemitsu - in the Spirit Garden acrylic painting to California collector.
2018 Edward Beckett Studio opened its doors to a two-day Studio Tour in June, attended by more than 300 art enthusiasts. Beckett presented a demo on the making of monotype prints and a brief introduction to 14th Century Russian Byzantine-style iconography in two working studios, displaying three floors of his newest work.
2017 Los Angeles curators Lee Tusman and Peter Frank selected a number of Edward Beckett's artworks for a touring show proposal named MusicSeen: The Visualization Of Sound In Contemporary Art. MusicSeen will explore the work of 11 contemporary American visual artists responding to a spectrum of sound and musical experiences.
BROADCAST


2015 The artist was a special guest on Los Angeles' Talk Radio KABC The Artist's Way at Work with author Mark Bryan
REVIEWS


Beckett delights in making the familiar seem unfamiliar
A cinematic affinity also suffuses artist's body of work
Gilbert A. Bouchard, Special to The Edmonton Journal

July 6, 2002-Edmonton, Alberta, Canada You're forgiven if you see as much Stanley Kubrick as Frank Stella in the paintings and ceramic work of Los Angeles-based Edward Beckett.

Obviously, Beckett shares a medium and an expressive angular sensibility with fellow modernist painter Stella, but there's a deep love of narrative and a desire to play with time that edges his practice into Kubrick's cinematic camp. A fan of strong lines and strong colours, Beckett describes his work as expressionistic painting with an " automatic drawing feeling he picked up from surrealism" as well as influences of Cubism in earlier pieces.

"That school (surrealism) gave me permission to do this which is what history is all about. The work of those that came before you give you the freedom to try new things." says the artist, who has two exhibits of work currently on display at the Works Visual Arts Festival.

Boasting a cartoon-like gestural feel in the drawn components of his compositions, that 55- year old multimedia practitioner sees himself in the camp of fellow surrealist George Herriman (the creator of Krazy Kat) in that he's creating "a cartoon as the non-cartoon" and producing work that take "familiar elements and make them seem unfamiliar" especially in a second viewing.

As for his cinematic affinity, Beckett says he wants his work to edge into the "multipsychic from the multivisual," presenting points of view from different times and places as well as different emotional perspectives.

"I'm a real lover of film," says the artist of his multilayered works, some possessing up to eight different strata of image and colour, juxtaposing different visual elements the same way a filmmaker would use rapid edits to shift time and place.

"I'm showing a lot of space with multiple timelines, like flashbacks, flashforwards or even a flashmoment. In some works, I show the beginning of life to the end. I'm trying to get it all in the work."

Beckett is also striving to create a sense of continuum in the work, "giving a sense that everything is connected." To that end, the freehand-created automatic portion of the work is all linked, creating a flowing line of image. That drawn line of interconnectedness also serves Beckett's inherent narrative, storytelling needs.

Noting the drawings embody a fully fleshed "personal mythology" evoking a universal person, Beckett says you can "read" complete stories into the drawings on his three-dimensional ceramic works, as long as you're willing to devote the time to break his illustrative code.

"It takes a first reading of the piece to get the vocabulary down and then a second reading to get the story. But I don't want people to get to stuck on any one interpretation, because there's an open nature to automatic drawing."

Mind you, this narrative bent occasionally conflicts with Beckett's juxtapositional sensibilities.

"I'm always fighting with the work so that it doesn't get too active, too energetic and too busy to read."

ESSAYS


September 2006--Edward Beckett: Musical Ekphrast
By Peter Frank, Los Angeles

October 1999--Edward Beckett: Meanings & Mechanisms
By Peter Frank, Los Angeles

August 1997--Critical Commentary on Edward Beckett
By Gordon Fuglie, Director, Laband Art Gallery, Loyola Marymount University, Los Angeles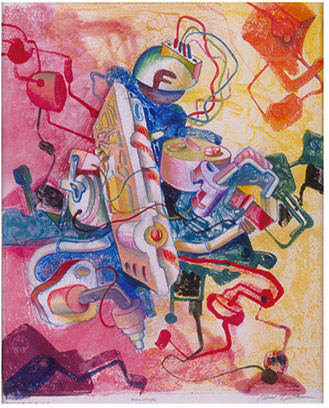 ANNOUNCEMENTS


May 25-27, 2019 - Beckett Studio announces 3-day Monotype Workshop. Techniques to be covered include Chine-Coll'e, Templates, adding interest with addition of Collagraph plate, enhancing the Cognate, multiple plates

Feb 28, 2011 - Altadena Blog: Artist Edward Beckett joins Oscar-winning composer Mark Isham in a joint presentation of their works at Wildfire Studios in Los Angeles

Oct 3, 2010 - Altadena Blog: Windows into heaven: an ancient art on Altadena Drive - 1000 word story + photos

March 1, 2010 - Altadena Blog: Edward Beckett's art interprets Pasadena Conservatory concert

Pasadena Star News-2008: Three artists in exhibition: Edward Beckett, Bob Young and Bob Moore